The HALO Program was created in 2013 out of a need expressed by Oklahoma foster and adoptive parents. Parents were tired, frustrated, confused and ready to quit. Traditional parenting methods and counseling techniques were not proving to be successful. To meet this need, HALO searched nation-wide for interventions designed for foster and adoptive families. Trust-Based Relational Intervention (TBRI®,) developed by Dr. Karyn Purvis and Dr. David Cross from Texas Christian University, showed amazing results for this population. It became part of the HALO mission to develop a program based on TBRI® to serve Oklahoma foster and adoptive families.
Families that participated in HALO Project experienced a decrease in relational frustration with their child, an increase in attachment, parenting confidence, and involvement. Parents reported a decrease in problematic behaviors in their children and reported less frustration with the problematic behaviors. Overall, all families reported an increase in compassion and understanding of their child and their unique history and the majority report no longer needing mental health services upon completion of the program.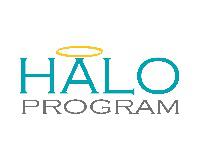 HALO Program is a ten week intensive counseling program. HALO offers programs for families with children ages 3-7, 8-12 and teens. HALO Program activities can be divided into three categories: Trauma Education Classes (TEC), Halo Kids/Teen Club, and Family Sessions. All together, the family receives 50 hours of therapy during the 10 weeks (20 hours of group for the parents, 20 hours of group for the children, and 10 hours for each individual family together.)
Trauma Education Classes (TEC):
Caregivers participate in 10 weeks of Trauma Education Classes. Classes are limited to 12 caregivers and each class is 2 hours in duration (from 6:00-8:00PM.) Classes teach connecting, empowering and correcting principles and rely heavily on TBRI® DVDs, experiential exercises, group discussion and role-play. TEC is facilitated by a licensed therapist.
HALO Kids/Teen Club:
Children participate in HALO Kids Club once a week for 10 weeks. HALO Kids Club occurs at the same time as the Trauma Education Classes for the adults. Each child is paired with a buddy, which is a volunteer member of the community with a heart for children from hard places. HALO Kids Club activities are designed to teach feelings expression, self-regulation, and life value terms associated with TBRI®. Kids Club is facilitated by a licensed therapist. Note: the Teen Club is on a different night that the teen parent classes so the same therapist can facilitate both groups.
Family Therapy Sessions:
Caregivers and child participate in family therapy sessions once a week for 10 weeks (and additional weeks if needed.) These sessions focus on teaching connection through child-led play using the TBRI® Connecting Principles, problem solving specific behaviors, and role-playing TBRI® skills learned in class. In addition, trauma processing through the use of storytelling, play therapy, providing education and life books is also included. Therapists draw on their training in a variety of modalities, including Internal Family Systems and EMDR, to assist the child in processing their trauma history. Family sessions are held during the day between the hours of 8:00 am – 3:00pm.
Cost:
Due to the kindness of foundations and donors, there is no cost for the TEC classes and HALO Kids Club. If possible, HALO will bill your families insurance for the family sessions so if you have a co-pay, you may be asked to pay that small portion. If your HALO therapist does not accept your insurance, scholarships may be available.
Waitlist:
Due to the success of the HALO Program, there is a waitlist. HALO offers the program several nights a week, several times a year. HALO suggests to go ahead and get your name added to the waitlist as soon as possible.
"HALO changed and revolutionized our lives and saved our family" and "HALO has been amazing for our family. Every day we have individuals tell us that they can't believe the change they see in 'our child' and our response to him."